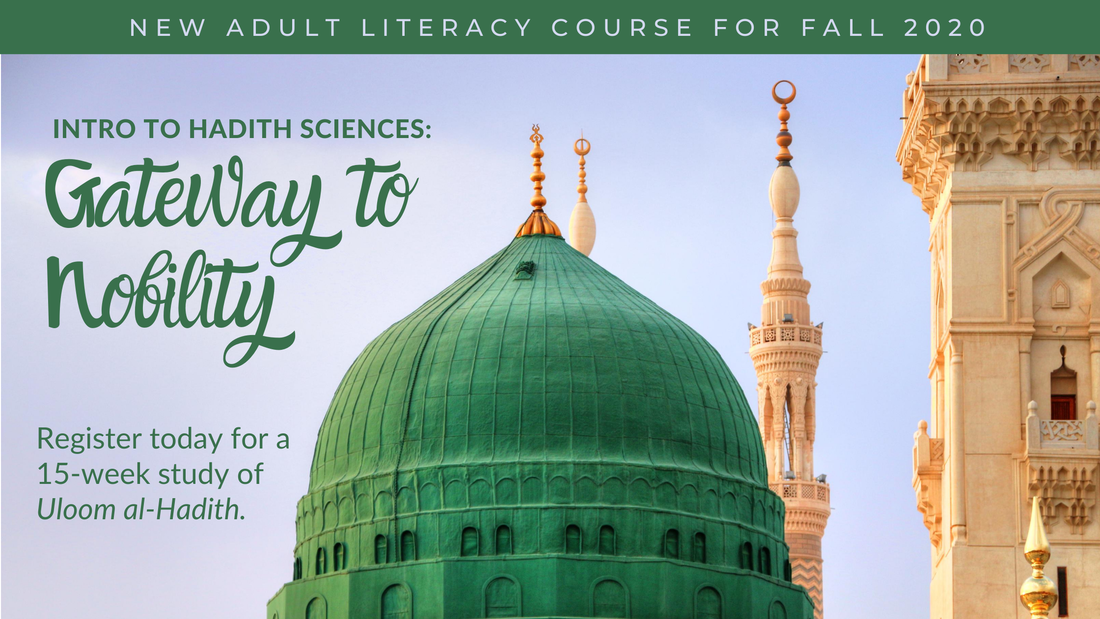 Welcome to the fourth year of Adult Literacy in which we step into the Hadith Sciences. Join Shaykh Mateen Khan for a 15-week study of of Uloom al-Hadith, including a study of Ibn Hajar's primer Nukhbat al-Fikar and selected Hadith from Mishkāt al-Maṣabīḥ.
Topics Include:
What is Hadith & Sunnah?

History of Hadith & Its Preservation

Understanding Difference of Opinions

Hadith Terminology

Modernist and Orientalist Misunderstandings

Lives of Famous Hadith Scholars
​Classes begin September 8, 2020, Insha'Allah. Register below!
​Deadline: September 1
Note: Online classes are live. To prevent students from falling behind, class recordings are generally not provided. Financial aid is available. Contact us directly. Tax documents may be requested. No one should hesitate enrolling because of financial hardship.
Adult Literacy is our educational initiative for adults. Over the course of four years with Adult Literacy, you will firmly grasp the necessary knowledge needed to live an Islamic life today. We do this by explaining simply yet thoroughly the sacred sciences in English. Additionally, frequent review and testing are employed to enhance retention.
Subjects covered by year:
Year 1 - `Aqidah
Year 2 - Fiqh
Year 3 - Qur'anic Sciences
Year 4 - Hadith Sciences
Adult Literacy semesters comprise of college-style classes that meet 90 minutes weekly for 15 weeks. Class sizes are limited.
Note: New students are not required to have attended any of the previous years of Adult Literacy.
Mawlana Dr. Mateen Khan
Mawlana Dr. Mateen Khan was born and raised in the Philadelphia area. He completed his medical degree from Temple University Medical School, and specialized in Emergency Medicine.
As he began practicing as an Emergency Medicine physician, Mawlana Dr. Mateen simultaneously enrolled in the prestigious seminary program at Darul Uloom Al-Madania in Buffalo, where he spent six years intensively studying core disciplines of the traditional Islamic sciences, such as Arabic, Tafsir (Quran Exegesis), Hadith (Prophetic Traditions), Fiqh (Jurisprudence), and other related subjects.
As the new branch of the seminary opened in Chatham, Ontario by the name of Darul Uloom Canada, he relocated to it and completed his graduation there, gaining Ijazas (authorizations) to teach the various subjects, most notably, the six authentic books of Hadith, namely, Sahih Bukhari, Sahih Muslim, Sunan at-Tirmidhi, Sunan an-Nasai, Sunan ibn Majah and Sunan Abu Dawud.
September 10, 2020 - December 17, 2020
Thursdays | 7:30 PM - 9 PM